8 Benefits of Hiring a Personal Trainer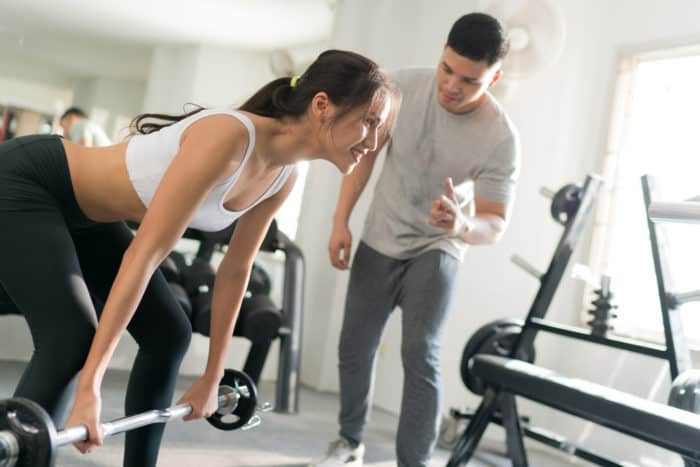 Let's face it, we've all sat, late at night, strangely intrigued by advertisements for supposed 'life-changing' fitness equipment.
Each new product claims to address that weak core or the spare tyre in need of deflation. In the wee hours, a sense of vulnerability comes over us and the dream of improved health and a better physique lures many to purchase an apparatus that inevitably ends up cobweb-ridden in the garage.
Such ruins are merely representations of modern life; time-poor and career-driven people put health and fitness on the back burner, as family and work occupy more and more of their time.
Those rather buff and perfect athletes who demonstrate the equipment somehow convince the masses that they too can sculpt and mould a physique worth a second look. Such is the façade of rather flimsily constructed and simplistic objects, claiming to produce the short-term miracle to which so many people are susceptible.
The reality is that the toned and muscular athletes in the commercials themselves did not achieve their impressive physical state through a 10-minute, daily session on a gadget for which they paid $39.95.
A disciplined and rigid exercise plan under the watchful eye of a professional trainer was far more likely the means.
These days, the sheer number of gyms, affordability of memberships and the flexibility available in personalised fitness programs, mean there are fewer excuses than ever to not employ a professional to help you meet your fitness goals.
The use of personal trainers grows more popular and the reasons they produce such a high rate of success are logical, measurable and life-changing. So here are eight simple reasons why it might be time to stop going it alone.
1. Motivation
With a set time, venue and a level of expectation already in place, a personal trainer takes away the true enemies of improved fitness: laziness and apathy. With an enthusiastic instructor waiting, there's little scope for excuse and procrastination. They expect you to be on time – after all, there's work to do.
2. Continuity
Routine can be an enemy in other walks of life, but for personal fitness, it is a blessing. Most people drift through phases in life where motivation is high yet, sadly, slump into other periods where exhaustion and fatigue erode much of the good work done prior. With a holistic approach to health and a program that builds gradually over time, personal training provides a consistency that's often difficult to achieve alone.
3. Personal goals
One of the most appealing aspects of the personal trainer is their awareness of exactly what it is you want. There's a vast difference between building muscle and improving posture, to running a half-marathon. Either way, the trainer builds a program to achieve the specific goal or helps you re-evaluate if the objective might be a little unrealistic in the short term.
4. Fitness Knowledge
Understanding your body and being more aware of what it can and can't do and the strange noises that sometimes emanate from it is an often underrated form of education. The long-term health benefits of being aware of your physicality are enormous and inform lifestyle as we age.
5. Safety
With the average person carrying some sort of nagging pain or injury through everyday life and attempting tasks bound to worsen the issue, a personal trainer will tailor a fitness plan to prevent further damage. With improved general fitness, many people also experience a reduction in pain, as their overall strength increases and the weak area is more supported.
6. Financial benefits
With private health insurers starting to value people's commitment to their health more and more, never before has it made so much monetary sense to make a commitment to personalised fitness. In addition, as general fitness improves, less money is spent on physiotherapy, medicines and pain management; expenses which only mask the real issue of poor general health.
7. The body as a machine
When our motor vehicles make strange noises or feel a little odd, we all know the most prudent step is to high tail it to the experts before things get worse. Strangely, with our bodies, we rarely do the same. With a personal trainer taking on the role of a mechanic, our bodies run more efficiently and the cost of major services decreases.
8. Quality of life and state of mind
The connection between physicality and mental health has never been more apparent. The realistic goal-driven approach of the personal trainer leads to an improved sense of self and a confidence that can be transformative for individuals. We all have those friends who've taken the leap into the world of personal training and observed their improved physical and mental health.
Perhaps it is time to think about our own individual goals and fitness levels and consider engaging a personal trainer to help us on our journey. The benefits are considerable.
Talk to a our fitness coach to get started on your fitness journey today!
https://www.pts.sg/wp-content/uploads/2018/03/Benefits-of-Hiring-a-Personal-Trainer-e1520266033863.jpg
467
700
carpentersg
https://www.pts.sg/wp-content/uploads/2018/11/Logo-n.png
carpentersg
2018-03-05 19:12:57
2018-03-06 00:08:42
8 Benefits of Hiring a Personal Trainer